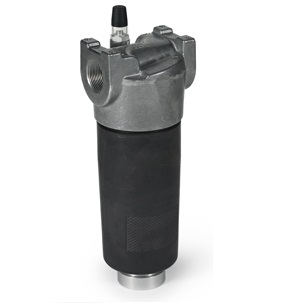 500 psi / 35 bar max operating F8 housing features a large element. Top loading housing is ideal for high viscosity lube oils, port to port match for 8300. 

          

LF / LFM high flow filter assemblies feature Hy-Pro DFE rated elements in single or multi-round configurations. Available in coated steel or stainless with pressure options up to 1500 psi / 102 bar.

          

A compact, dedicated off-line contamination solution ideal for small reservoirs, gearboxes and diesel engine crankcase conditioning.

          

Hy-Pro's MF90 and MF110 medium pressure filters are designed to protect sensitive components in hydraulic and transmission circuits. Install the series upstream of specific components or directly after the pressure pump in mid-flow systems to minimize risk of failure and costly system downtime.

Ideal for use as a charge pump discharge filter or a pilot filter, and to protect components that are sensitive to particulate contamination and require clean pressurized fluid for reliable operation.

Max Operating Pressure: 580 psi (40 bar)

          

MF3 medium pressure in-line filter with operating pressure up to 1200 psi / 83 bar is ideal for hydrostatic charge circuits. A technology upgrde to spin-ons. 

          

Hy-Pro DFE Rated HP409 series medium pressure spin-on element. Ideal for mobile equipment return-line and hydrostatic applications.

          

Low pressure spin-on assemblies with operating pressure to 200 psi / 14 bar feature DFE rated elements in a wide range of media options. Ideal for mobile equipment & low pressure return or off-line circuits

          

TF4 in-tank return filters with operating pressures to 150 psi / 10 bar feature Hy-Pro coreless elements or optional HF4 auto spec element. Compact alternative to spin-ons for HPUs & mobile hydraulic systems

          

TFR in-tank return filter operating pressures to 150 psi / 10 bar feature inside to out flow direction elements with integral bypass valve. Ideal for HPUs & mobile equipment hydraulic systems.