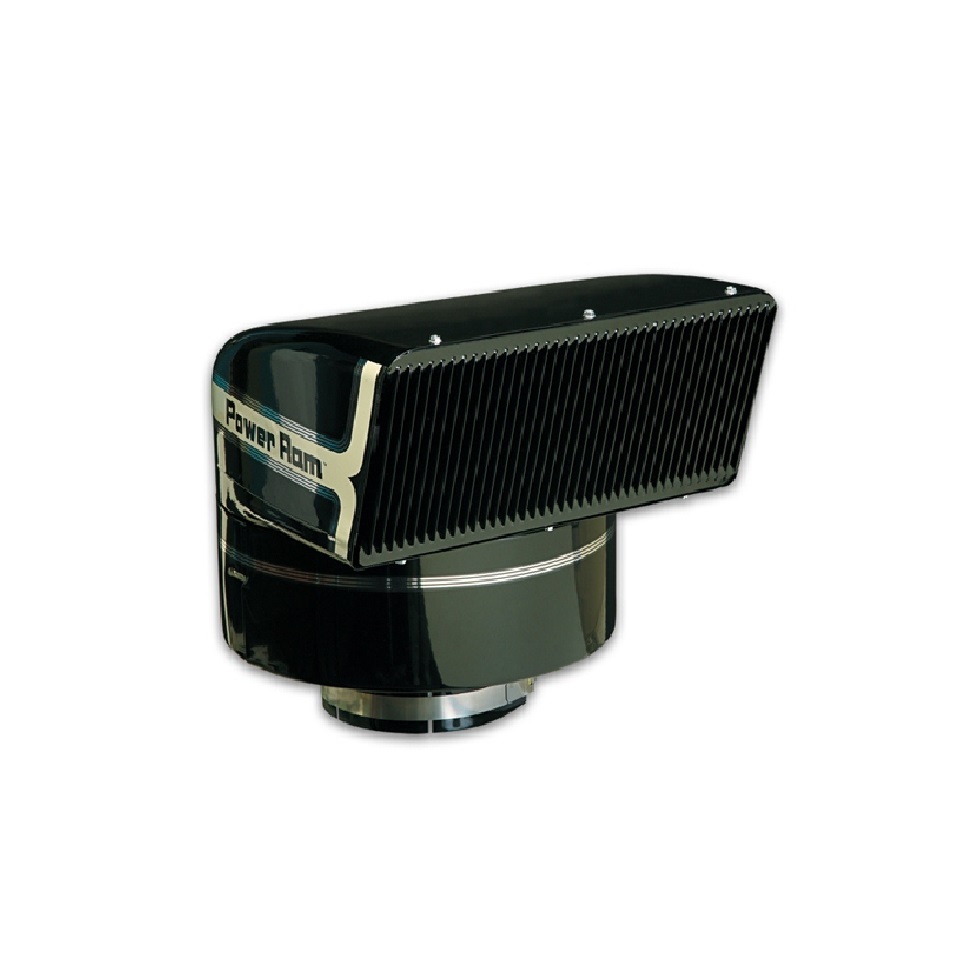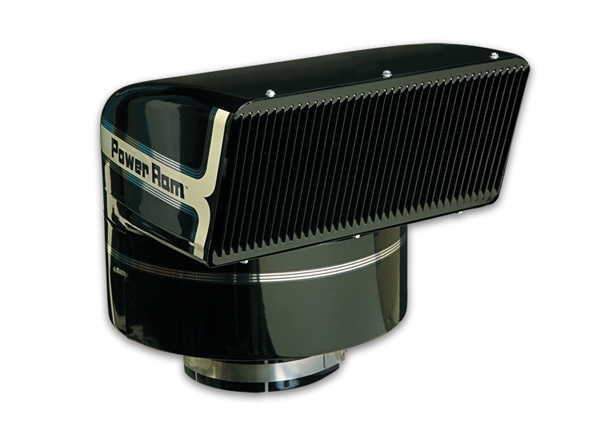 With its wide, angled air intake, wide operating range, and low air restriction, Power RAMs are found on large machines and where the operating conditions are severe-duty.
Logging, AG, mining, coal pushing dozers, steel slag, articulated dump trucks, concrete crushing, concrete crushing plants, concrete mixers.
Some applications require our Y-Pipe for two Power RAMs mounted side-by-side.
Power-Ram Highlights
400 – 1500 CFM
Improves engine performance by delivering more air to the engine at highway speeds. Saves Fuel!
The louvered screen prevents plugging from snow or ice build-up.
Reduces air-intake restriction at highway speeds.
Extends air filter element life by removing most rain, snow, dust, etc., from the intake air. Reduces re-entry of sooty exhaust air into air-intake.
Rugged and light-weight metal construction.
Models "S" and "XL" are under development.
Model "L" is metal with powder-coat finishDirectional air intake: Face away from heavy airborne debris Wide 13.5"x6" (343mm x 152mm) intake area with a louvered screen
Wide flow range 400~1500 CFM per unit Rugged metal construction with an e-coat finish to guard against rust, chemical attack, and corrosion
Base mounting comes with a clamp in three sizes: 6" (152mm), 7" (178mm), or 8" (203mm)
Various reducers available to adapt to your application
Replaceable spinner
Power RAM's are installed on: Chippers, Tub-grinders, Mulch Machines, even older Cab Over Trucks still in service!
Turbo® PowerRam Heavy Duty Engine Intake Air Precleaner Specs
Airflow range
Inlet size base
Model
CFM
m3/min
Inches
mm
L
500-1500
14.2 – 42.5
6″, 7″, 8″
152, 178, 203
O.D.
Height
Weight
Model
Inches
mm
Inches
mm
LBS
kg
L
13.5 x 14.5
343 x 359
13.25
321
9
4.1