HOSE K1H-ST 7100 (Standard)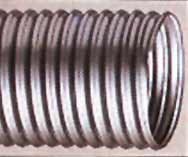 Hose K1H-ST 7100 (Standard)

Light, highly flexible PVC-hose, reinforced with coated steel-wire welded to the outer bore which is made of high quality soft PVC.

Universally applicable, e.g. cable protection hose for electrical and machine industry, for the textile, wood, plastic and chemical industry as suction, blow and/or transport hose.