Dust Filter Cartridges with Flange Ø 150-214-327 mm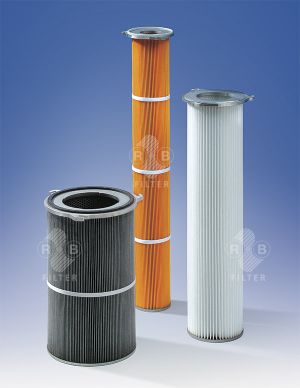 Applications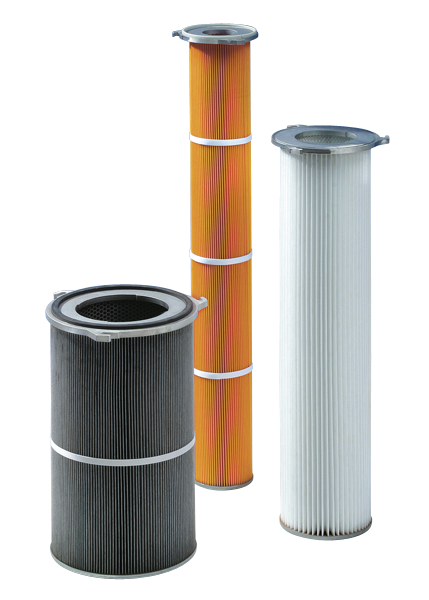 Foundries
Recycling
Aviation industry
Zinc spraying
Mining industry
Separation of oil- and emulsion mist
Advantages
Technical guidance
Filter medium adjusted to the application
Robust 3-lug flange of aluminum
Long lifetime
Filter Media
Polyester
Polypropylene
Fiberglass paper
cellulose
aramid
polyphenylene sulfide
PTFE
The filter material is adapted to the properties of the dust. Our filter media are certified according to DIN EN 60335-2-69 or DIN EN 1822.
Possible Equipment:
Antistatic
Oil and water repellent
PTFE finish
Microporous finish
Nanofibres
Meltblown
ePTFE membrane
Certified in accordance with DIN EN 60335-2-69 appendix AA. Suitable for the filtration of health hazardous dust.
Features
Maximum operating temperature 80 °C
Metal parts galvanized steel
Cleanable by compressed air
Special Designs
Temperature resistant up to 450 °C
Suitable for ATEX applications of all zones
Certified for use in food production in accordance with DIN EN 1935, FDA CFR 21 or cold water permission
Metal parts of stainless steel
Other individual solutions
Accessories
Venturi nozzles
310-002-000013, ∅ 214 mm
310-002-000015, ∅ 327 mm
Short injectors
Solenoid valves
Valve control systems
Airflow deflectors
Flange ∅ TK = 205 mm for raw gas side and clean side installation
∅ A
[mm]
Length L
[mm]
Filter area
[m²]
? TK
[mm]
150
605
1,5
205
150
985
2,5
205
150
1205
3,0
205
Flange ∅ TK = 266 mm for raw gas side and clean side installation
∅ A
[mm]
Length L
[mm]
Filter area
[m²]
? TK
[mm]
214
605
3,0
266
214
985
5,0
266
214
1205
6,0
266
Flange ∅ TK = 393 mm for raw gas side and clean side installation 
∅ A
[mm]
Length L
[mm]
Filter area
[m²]
? TK
[mm]
327
605
6,0
393
327
605
10,0
393
327
985
10,0
393
327
985
13,0
393
327
985
16,0
393
327
1205
12,0
393
327
1205
16,0
393
327
1205
20,0
393
Flange ∅ TK = 365 mm for raw gas side installation
∅ A
[mm]
Length L
[mm]
Filter area
[m²]
? TK
[mm]
327
605
6,0
365
327
605
10,0
365
327
985
10,0
365
327
985
13,0
365
327
985
16,0
365
327
1205
12,0
365
327
1205
16,0
365
327
1205
20,0
365