Asfa Worm-Drive Clip Black Finish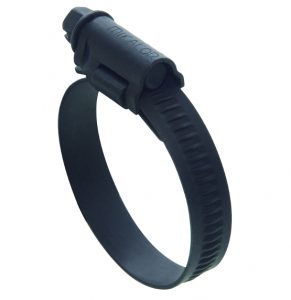 Thanks to the exclusive design of the housing, the ASFA hose clip has excellent performance while being at the same time very compact.
The cold-formed stamped band thread, smoothed on the underside, combined with the beveled band edges protects the hose from any damage.
The ASFA hose clip complies fully with the DIN 3017 norm and also with the RoHs directive EU 2002/95/EC dated 1st July 2006.
The special black finish gives added corrosion resistance and makes this clip very popular in automotive and defense applications, as well as in the manufacture of agricultural and construction machinery.
* The maximum application pressure can vary depending on the type of hose used and the geometry of the coupling. Patented Worldwide.